Ivanhoe Mines is committed to responsible water use in support of the United Nations' Sustainable Development Goals (SDGs) with regard to access to water and sanitation, and responsible consumption and production.
The long-term viability of our principal projects and operations as they come on stream rely on our ability to obtain the appropriate quantity and quality of water and to use this resource as efficiently as possible. Our projects are situated in different regions of the world where water risks and impacts range from water scarcity to excess. This range of water-related challenges calls for innovative approaches to ensuring access to quality water sources for our projects and our host communities.
Globally, the social, cultural, environmental, ecological and economic value of water has led to greater scrutiny of responsible water use and expectations from our stakeholders for improved resource stewardship. This increased awareness of water security, the acknowledgement of the human right to water and sanitation, and recognition of environmental linkages, such as climate change, form the basis of our strategic approach to securing and efficiently using water as a resource.
Ivanhoe Mines' water strategy is governed at the Board level through the Sustainability Committee. Robust engagement with a variety of stakeholders, including investors, policymakers, peer companies, non-governmental organizations and host communities, informs our water use strategy and operational objectives.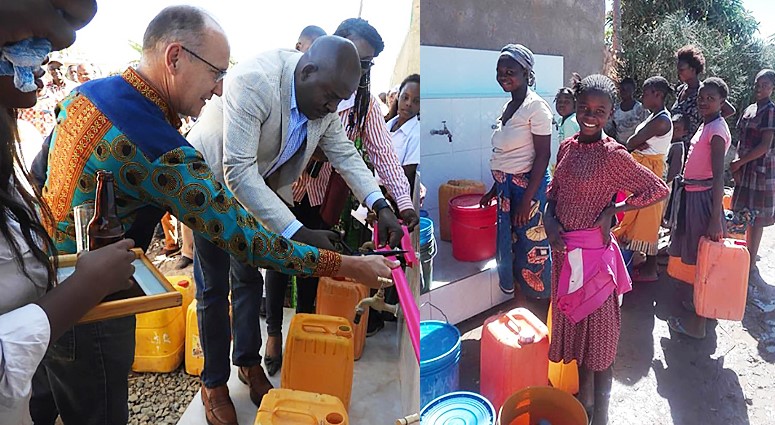 The official inauguration of the fourth potable water well at Bonne Semence, a small village near the Kipushi Mine.
Approximately 70 families will collect their daily water at the new well, which was constructed as part of Ivanhoe's community support program.
The implementation of our strategic objectives for water use is underpinned by the following commitments:
Alignment with Public Policy Initiatives (such as the SDGs)
We have active national and regional teams who regularly engage with policymakers on water-related issues.
Implementation of Water-Related Commitments Beyond Regulatory Compliance
An example of reaching beyond compliance in water security is providing potable water to approximately 180,000 urban residents in our host community at our Kipushi Project.
Voluntary Public Disclosures and Reporting
We are committed to taking a proactive approach in publically reporting on our water security-related activities even while our principal projects are still in the development phase. We believe this approach will assist in maturing our reporting processes in a timely manner, and building a culture of energy efficiency and water security awareness in our workforce. In this regard, we voluntarily disclose our climate change information on the Carbon Disclosure Project (CDP) platform.
Innovative Approach to Water-Related Matters
Our Platreef Project, which is situated in a water-scarce area, has been designed in a way that minimizes water usage. In 2018, we signed a long-term agreement with the local municipality for the supply of treated wastewater from the town of Mokopane's new Masodi Treatment Works. The initial supply of five million litres of treated water a day, beginning in 2022, will be used in Platreef's ongoing underground mine development and surface infrastructure construction.
Continued Stakeholder Awareness and Education
A leading example of creating stakeholder awareness about water-related issues is the provision of potable water tanks to stakeholders in rural communities near our Kamoa–Kakula Project, and educating community members about regularly monitoring the quality of the water provided.
Continued Improvement in Environmental Performance Practices in Respect of Water-Related Issues:
We are committed to the optimisation of our water use at all of our operations.
A Holistic Approach to Water-Related Risks
We continuously undertake site-specific environmental studies, monitoring and evaluation, which enables us to attain a holistic understanding of the hydrogeological and land use characteristics of our project footprint areas. Related impact studies also provide insights into the broader political, economic, social and ecological dynamics that influence water availability and quality in these areas in order to maintain healthy water ecosystems and minimise resource- and impact risks.
Provision of Accessible, Safe Water, Sanitation and Hygiene (WASH) Programmes for All Workers
Our entire workforce has access to safe WASH facilities, with special provision being made for women workers. In addition, at the Platreef Project, we have provided 130 sanitation units in public places in recognition of the human right to sanitation in our host communities.