#WeAreIvanhoe
At Ivanhoe Mines, our success relies greatly on our people. We are proud of our growing team of talented women and men. They have embraced our goal of environmental, health and safety excellence, and, through their efforts, are helping us to build what will be three of the world's best mines in Southern Africa's legendary mineral fields.
April 2023
Introducing
Joel Samba Kasongo

– Superintendent II, Kamoa Copper, Ivanhoe Mines SA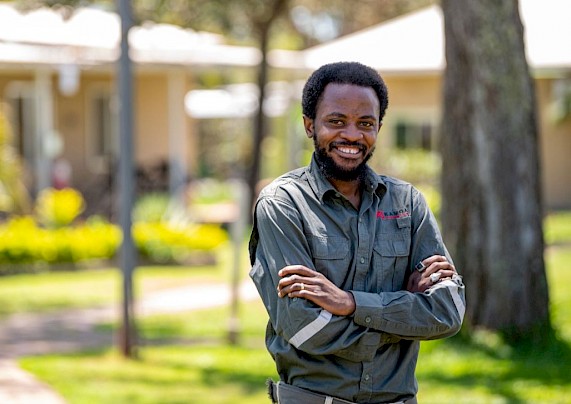 Introducing Joel Samba Kasongo, a dedicated Superintendent II for Facilities at Kamoa Copper. Born and raised in Lubumbashi, DRC, Joel completed his primary and secondary education before obtaining his high school diploma in 2010. His thirst for knowledge led him to pursue a Bachelor's Degree in computer science, which he accomplished in 2017.
Joel describes himself as ambitious, results-driven, and self-motivated – qualities that undoubtedly contributed to his hiring at Kamoa in 2019. As Camp and Facilities Superintendent, he relishes the responsibilities of his role every day.
Joel is grateful to be part of the DRC's burgeoning mining industry and values the opportunity to work with Ivanhoe Mines – a company he considers a dream employer. He particularly appreciates how Ivanhoe cares for its employees by crafting an atmosphere that resembles a second home, resulting in a comfortable environment for those who live on-site for extended periods.
With optimism and determination, Joel envisions a future brimming with possibilities. As Ivanhoe offers training and development programs, he eagerly embraces the chance to both realize his full potential and continue dreaming big.
March 2023
Meet
Evodie Kadima

– Recruitment Officer, Kamoa Copper, Ivanhoe Mines SA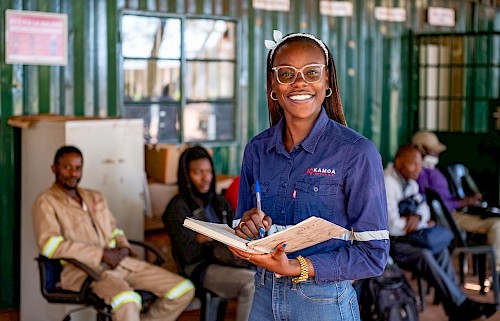 Evoide grew up in the bustling city of Lubumbashi in the Democratic Republic of Congo, where she studied at Salama High School of Informatics. When Evodie was just 10 years old she had aspirations to work at the Kamoa-Kakula mining complex. While visiting family in Kolwezi, one afternoon following church service she noticed several women in uniform boarding buses heading to work at the mine. She was inspired ever since.
At the age of 20 Evoide began as an intern within the IT department at Kamoa where she became familiar with the inner workings of the organization, appreciating the cultural diversity of the workforce at Kamoa. After seven months she moved on to a full-time roll and her first job as Time & Attendance Officer.
Her interpersonal, technical and typing skills led her to her current position as Recruitment Officer where she assists the HR team with employment projects and the on-boarding new employees. "I get to interact with different people all day and help the company find the right people for the jobs available."
"There is a good corporate culture here, everyone respects each other and the work that we do. I have gained expertise in this field and see myself on a growth path over the next few years."
February 2023
Meet
Lizaan Pelser

, Sustainability and Executive Support Assistant, Ivanhoe Mines, SA.

Lizaan Pelser grew up in KwaZulu Natal, South Africa, and attended Voortrekker High School in Pietermaritzburg. To satisfy her growing interest in dramatic arts, she pursued a performing career and studied musical theatre which opened up several opportunities in voice over work, working on set of touring theatre productions, and performing on stage.
After studying musical theatre at the Waterfront Theatre College in Cape Town for four years, and obtaining a Licentiate in Speech and Drama, through Trinity College in London, she decided to broaden her horizons. While au-pairing in San Francisco she switched gears and enrolled in an Event Management Course through Stratford College in America.
In 2022, Lizaan took a dramatic career switch into the corporate world by joining Ivanhoe Mines as Sustainability and Executive Support Assistant. Lizaan has always had a keen interest in community projects, which is fitting as this this role finds her involved in some important initiatives to strengthen the socio-economic development of local communities as well as assisting with the implementation of Ivanhoe Mines' commitment to the United Nations' Sustainable Development Goals.
Recently, Lizaan played a key role in an Ivanhoe sponsored international summit held annually in Johannesburg. Africa Accelerating plays host to visitors from Canada and a number of African countries, which was a tremendous success and an impressive accomplishment.
Lizaan's greatest joy is connecting to people and she definitely makes that happen in the workplace as she is known to bring people closer together. She embraces challenges and looks at each one as an opportunity to learn and grow. The ultimate team player!
December 2022
Meet
Johannes Moabelo

, Community Relations Practitioner at Ivanplats, Ivanhoe Mines SA.

Johannes Moabelo, is a native South African who rose quickly in ranks at the Platreef Project, starting out as a general worker to building a solid career as Community Relations Practitioner. Now, with over 10 years experience, he has his sights set on a managerial or advisory role within the Sustainability Department.
Growing up with four siblings in the dusty streets of Magongoa, SA, he understands first hand the needs of small local communities which makes him the perfect liaison between the company, government and host communities.
Johannes exudes passion...not only for his work, but for his interest in people and understanding the often complex concerns and needs of our various stakeholders. His desire to make a difference in the lives of the community members is inspiring and we look forward to watching his career grow!
November 2022
Meet
Dr. Patrick Kasongo

, Superintendent III, Occupational Health at Kamoa Copper, Ivanhoe Mines SA.

Dr. Patrick Kasongo joined Ivanhoe Mines in 2010 and has been the driving force behind Kamoa Copper's Occupational Health Programs. A recognized leader in his field, he was appointed as an Occupational Doctor by the Congolese Ministry of Health and experienced in "Advanced Life Support" through the American Heart Association Southern African Academy. For the past 14 years he has been working within the mining sector setting up occupational health departments and new clinics, ensuring their compliance with both Congolese and mining legislation.
Since joining the Kamoa team over a decade ago, Dr. Patrick has been gradually building up the health department, which he managed almost single-handedly until 2020 when additional resources were brought in to help navigate the Covid-19 pandemic.
Under Dr. Patrick's guidance, Kamoa implemented HIV counselling, voluntary screenings and awareness campaigns. A total of 7,105 Kamoa employees attended meetings and safety talks regarding the importance of knowing their status, as well as learning about preventative measures and causes of HIV. Employees were encouraged to get tested with the assurance that they would have support and access to world-class treatment facilities in the case of testing positive.
Following pre-test counselling sessions across the various sites, a total of 1,667 employees were tested. After the 30-minute testing period, employees participated in a second counselling session and received a certificate of HIV test completion. To further support the campaign, 58,776 male and female condoms were distributed across all the sites.
"The HIV campaign was a huge success. Many employees, including contractors, had not previously received important information about HIV/AIDS. The testing acceptance rate was good (23%), considering that it was the first time that many new employees were being exposed to HIV/AIDS awareness. People were initially hesitant to test because they thought they would lose their job if they test positive for HIV, or that HIV is a death sentence. The HIV/ AIDS awareness campaigns that we develop aims to change this misconception."
September 2022
Meet

Nathalie Kikaba

, Socio-Economic Development Director at Kipushi Project, Ivanhoe Mines SA.

Nathalie Kikaba has familiar roots working at the Kipushi project in the Democratic Republic of Congo (DRC). She was born in the DRC and it's where she spent her formative years.
Her studies in Engineering and Science took her abroad to Belgium and South Africa and after much hard work, resilience and perseverance she launched her career in mining where she has been for the past 10 years. She has held several positons from Deputy Manager and Senior Contract Administrator to Camp Manager. Nathalie is currently studying for her MBA, specializing in Strategic Planning.
She insists she's found a home at the Kipushi project and was able to transition into her role as Socio-Economic Development Director with ease and a comfortable familiarisation. Her role has a direct impact on local host communities as she manages a variety of initiatives and programs including bursaries, implementation of solar water wells, literacy initiatives and enterprise development such as the local sewing centre.
"Mining empowers small businesses and contributes to improving life within local communities. Mining has given me the opportunity to develop a career path which I couldn't have imagined when leaving school."
---
August 2022
Meet

Mbali Nkwali

, Talent Management as part of the Transformation Department, at Ivanhoe Mines

Mbali joined Ivanhoe Mines S.A. in 2014 as a Trainee Stakeholder Analyst. She has a Bachelor's Degree in Social Sciences, Economics and Organisational Psychology and went on to study for a Master's Degree in Japan. Now, an MBA Graduate from Kwansei Gakuin University in Nishinomiya, she confesses it was one of the hardest and most enlightening experiences of her life, and one of her greatest accomplishments.
After her return from Japan, she was seconded to Kamoa Copper to assist with recruitment. Originally planned as a short-term stint, her role soon evolved into her current position heading up Talent Management as part of the Transformation Department.
Her passions involve working with and creating growth opportunities for people. She enjoys being a part of a process that is often life-changing for people. The position allows her to be creative and implement practical solutions for everyday challenges.
Mbali is an advocate for women in mining based on her positive experiences and often encourages other women to consider this enriching industry which is full of opportunities.
---
September 2021
Meet

Cathy Liu

, Senior Manager, Investment and Corporate Development, at Ivanhoe Mines

Cathy Liu was born and raised in Beijing, China, and has been with the Ivanhoe family since 2017. When she joined Ivanhoe Mines in October 2017 – she was one of just 2 employees of the Ivanhoe Mines China office.
She believes that the best preparation for tomorrow is doing your best today and looking back over the years, she is delighted to have made the choice to join this company who has allowed her to grow and develop her skills and potential.
Cathy has changed roles and worked in three different positions in the past years – in 2017 she joined Ivanhoe Mines China as an Investor relations and Public relations manager, mainly responsible for liaison and communication with all the partners and potential investors. With the expansion of China office staff, she was appointed as the head of operations, responsible for the matters related to China office operations as well as leading all functional departments. About a year ago, Cathy expressed her intention to transfer from the position of back-office operations to the core business department to her line manager, who fully supported her. Now she works as senior manager of the Investment and Corporate Development department of Ivanhoe Mines, China.
Her personal motto is: "Stay hungry, stay foolish". For Cathy, those four simple words as very powerful, it does not only teach us great life wisdom, but also give us the strength to move on and never give up.
---
August 2021
Meet

John Kabale

, Protocol Manager at Ivanhoe Mines DRC

Born in Likasi and raised in Lubumbashi – John obtained his bachelor's degree in Economics at the University of Lubumbashi. He started his own business but was asked back to University to assist one of his Professors. After this stint, he joined Malabar Business Travel and 5 years later he joined the Ivanhoe Group. His friendly face is a beacon of hope for travellers arriving in Lubumbashi. He has a passion for lending a helping hand to all those in need and to learn more about the law to continue assisting travellers.
When asked what he enjoys most about his job, John said: "In my job I love to serve others." Any person that has travelled through Lubumbashi can testify that John and his team truly live these words.
John advises individuals looking to join the mining industry to be patient, tolerant, honest, discreet, and must respect the rules of the company.
---
July 2021
Meet

Esther Busii

, Administration Officer at Ivanhoe Mines in South Africa

Born in the village of Tshamahansi in Mokopane, but raised in a small village called Ga Habedi in the North West province with her sister, Esther started working at Ivanplats in 2003 as a tea lady. In 2008 she became Team Leader, Cleaning & Catering, and in 2014 she was promoted to Office Assistant. She is very passionate about learning and while furthering her studies, she took the opportunity to shadow one of the senior members of management. Her dedication, meticulous attention to detail and friendly demeanour have made Esther the perfect candidate to move to the mine site as the Administration Officer. She thrives on the challenges on site and enjoys the fast-paced environment.

Looking back to 2003 – Esther is thankful for the opportunity that she got all those years ago. When asked what she enjoys about her job she said: "I enjoy that I get to meet lots of people. We have a diverse range of residents, so I love getting to talk to people from different cultures and backgrounds – no day is the same and that keeps my job interesting. I love working at Ivanplats, the team and everyone is friendly and that creates a great atmosphere here on site."

Her motto being: "If you can dream it, you can achieve it". Esther believes that to be successful in the mining industry you need to be strong and passionate about the work that you do and you will go a long way.
---
June 2021
Meet

Thuli Motsitsi

, Administration and Office Manager at Ivanhoe Mines in South Africa

Hailing from a small town of Standerton in Mpumalanga, Thuli Joined the company in 2008. Back then, Thuli was one of just 10 South African employees. As receptionist, she was the face and voice of Ivanhoe Nickel and Platinum. Bigger things were in store, however, as she soon became Project Administrator for the Platreef Project. Today, Thuli holds the reigns of the Sandton Head Office as Administration & Office Manager. She now also carries the responsibility to oversee COVID-19 compliance at the Sandton office as a COVID-19 Compliance Officer. She considers herself highly organised and flexible.
When asked about the best part of her job, she smiles and replies: "Part of my job requires me to constantly engage with staff members to ensure the smooth day to day running of the office. This is enjoyable because I am a people's person. Whether it is a complaint or a compliment I am ready for it, I know 'my customers' (Sandton employees). It is a cherry on top to coordinate company social events, which help people connect. All work with no fun diminishes productivity."
Her advice to individuals interested in joining the mining industry is: "It is pretty much an interesting and diverse industry. One might think it is all about the mine and mining only, but there is actually a lot more to it. One should be ready to explore when joining the industry."
---
May 2021
Meet

Christos Ioannou

, Senior Superintendent, Enterprise and Supplier Development at the Kamoa-Kakula Project in the Democratic Republic of Congo.

Born in Limassol, Cyprus and raised in the DRC, Christos Ioannou joined Kamoa Copper in 2016 heading the Warehouses and the Inbound Logistics department and was promoted to Senior Warehouse Manager. In 2020, he was promoted to Senior Superintendent, Enterprise and Supplier Development. Christos believes he got this far in his career through hard work, loyalty, commitment, problem solving, and a full understanding of the local culture. He is a firm believer that investing in people pays the best dividends.
With a passion for Supply Chain Management regarding work, empowering the local communities and a love for aviation and soccer in his private life, Christos enjoys the challenges of his job, working with people, coaching and supervising, skill transferring and being part of one of the biggest mining companies in the world.
He has been with the project since the beginning and this is what he had to say when asked how he felt when he started working in the company: "I was a Supply Chain Manager in my previous career heading over 100 agents, but I have decided to accept the challenge to be the warehouse manager of a junior company such as Kamoa Copper at the time in 2016 heading a team of 6 agents while I knew that the project will grow from exploration to mining, to production and now processing. My vision was clear. Keep faith and be focussed to my tasks and different roles during my career with Kamoa."
With the motto: "With Commitment and Loyalty to my department, management and my company, comes the satisfaction of a job well done." He advises individuals interested in a career in mining to focus on their work and tasks, to stay away from politics, to remain humble and earn respect through your accomplishments.
---
April 2021
Meet

Maphatlalatja Mojapelo

, Ventilation Officer at the Platreef Project in Limpopo Province, South Africa.

With a motto like: "Be somebody who makes everybody feel like a somebody", Maphatlalatja Mojapelo from the Ga-Magongoa village was a perfect fit as Community Liaison Officer when he joined Ivanplats in November 2013.
Maphatlalatja was soon promoted to IT Technician, but that is not where his story ends. With the progression of the Platreef Project, Maphatlalatja's interest was piqued by ventilation, and he started his studies to become a Ventilation Officer.
Maphatlalatja loves the challenges that this new position offers.
He is quick to say that though this may be seen as a change of direction – it is still all about the people. Making sure that his colleagues have fresh air to breath until they return to the surface is his passion.
---
March 2021
Meet

Eliane Ngoie Seluya

, Nurse Practitioner at the Kipushi Project in the Democratic Republic of Congo.

Eliane Ngoie Seluya has distinguished herself in the company, her profession, and the community of Kipushi. She has risen to every challenge as the only female nurse on-duty during the busy times of the first wave of the Covid-19 pandemic.
She graduated from university as a Nurse Practitioner in 2006. From the time of her graduation up until she joined Kico in January 2020, she has worked primarily as an Anaesthetic Nurse at various hospitals in Lubumbashi, DRC. Her passion for her career and her people is clearly demonstrated in her continuous learning as she has completed training in Malaria, HIV and Family planning.
Nurse Eliane has demonstrated a commitment to her community by sharing her time and expertise by conducting talks on Covid-19, Malaria, HIV and Family planning awareness. She has demonstrated exceptional personal commitment to civic endeavours outside of her professional obligations.
Eliane is the wife of Dr. Kayembe Masangu, a practicing surgeon in Kipushi. They have been married for ten years and live in Kipushi with their two young daughters and a son.
---
February 2021
Meet

Mmasaku Mohale

, Senior Manager Community Relations at the Platreef Project in Limpopo Province, South Africa.

Mmasaku Mohale joined Ivanplats in March 2014 as Senior Manager, Community Relations.
Born and raised in the Limpopo province of South Africa, Mmasaku started her career doing stakeholder engagement in the agricultural industry. She soon found her niche in the mining world and now has fourteen years of experience in community development and engagement in the mining sector.
Stakeholder engagement means that you get an opportunity to meet people from all walks of life. The reason for the meeting may be work related – but ultimately – a human connection is formed and that is what makes Mmasaku tick - to share in hardships and triumphs. It is always fulfilling to see a child on a mine scholarship succeed and move forward in life.
She lives her motto of "Nothing is impossible." She is a firm believer that though she may face detours – she will ultimately achieve whatever she sets her sights on.
Mmasaku is proof that dynamite comes in small packages.
---
January 2021
Meet

Jules Kaloko

, TMM Training Specialist at the Kamoa-Kakula Project in the Democratic Republic of Congo.

Training is key at a world class project like Kamoa Copper SA, and the training centre at the Kansoko mine is a hub of innovation that bustles with activity.
Jules Kaloko, TMM Training Specialist at the Kamoa Copper Project, has seven years of mining experience. He joined the team in April 2019 and maintaining a high level of Mining Mobile Equipment training is his key area of responsibility. His passion lies in the development of training material and unlocking the minds of his trainees.
Always improving his own skill set – is what keeps Jules on top of his game.

His motto "Everything in life is always in flux" proves that this young man will certainly be making waves in the future!
---
December 2020
Meet

Berhollet Lubanda

, Senior IT Technical Engineer at the Kipushi Project in the Democratic Republic of Congo.

Bertho's first words are an indication of his passion for his job … "The development of a world class organization cannot progress without digital transformation …"

He joined the company in 2014 as Computer Applications Specialist. In 2017, Bertho was promoted to Senior IT Technical Engineer and the responsibility of the design, operations and maintenance of IT systems used by the business, as well as mine operations, now rests on his shoulders. More than ensuring the availability of the IT infrastructure, he thrives working under pressure to deliver value adding solutions to the KICO project.

A respected and valued member of the Global IT Team – Bertho enjoys the diversity of his role. He deals with everything – from hardware to software, networks and web resources. Working with strategic partners to implement new systems and integrate IT process for Business and Operational Technology is an exciting part of his day.
---
November 2020
Meet

Hendrietta Sarila

, Project Geologist and Environmental Management at the Platreef Project in Limpopo Province, South Africa.

In 2011 – Hendrietta Sarila joined the Ivanplats team as a junior geologist. Born and raised in Ga-Kgobudi village - as a young girl fascinated by the drill rigs in the field near her house – she never imagined that she would be one of the pioneering women to join the Ivanplats team.

Not only is she a qualified geologist she is also a certified environmental management system lead auditor with postgraduate degrees in environmental management and hydrology.

Being part of the Ivanplats family for such a long time means that Hendrietta remembers many milestones. Being part of the geology team that undertook the largest mineral exploration project (at the time) on a global scale; as part of the environmental team, setting up and maintaining water management systems in accordance with regulatory requirements, and of course – playing her part in acquiring the mining right for the Platreef Project.

Her life motto "A grateful heart is a magnet for miracles" – is evident if you look at what she has already achieved – and the future shines bright.
---
October 2020
Meet

Pontien Kalala

, Graduate Mining Engineer at the Kamoa-Kakula Project in the Democratic Republic of Congo.

Pontien Kalala – or better known as Pontch - is a graduate mining engineer. He joined our company in April 2010 and now refers to himself as simply a Kamoa Citizen. During the early stages of exploration, he was part of the geotechnical drilling program to define the Kamoa rock mass conditions.
Kamoa is the first mining company he worked for and in 2014 he transferred to mining construction to conduct the Kansoko South box cut excavation. September 21, 2014, will always be remembered as the special day when the First Kamoa Blast took place.
During his career, he had a chance to work with Byrnecut to develop twin declines at Kansoko South and Kakula North and South with JMMC. Putting together the first Kamoa underground crew was a privilege and a highlight of his career.
Never a dull moment – best describe a day in the life of Pontien as the greenfields project is speedily developing into the world-class Kamoa-Kakula Copper mine. The best part of his job is seeing the micro-mining excavation projects handed over for the construction of permanent infrastructure.
Being a witness to the development of this project and learning from the best in the business inspires Pontien to become a legend in this industry.
---
September 2020
Meet

Jean-Claude Wandalika

, Human Resources Manager at the Kipushi Project in the Democratic Republic of Congo.

After 9 years as a teacher – Jean-Claude joined the company as Interpreter in 2014. Very soon he was promoted to Senior Administrative Officer. His passion for the job and for the KICO team led him onto the path of Human Resources, and in 2018 he was promoted to HR Manager.
He firmly believes that individual success builds company success. Making sure that each individual performs to their best ability and growing a healthy company culture is what
keeps Jean-Claude motivated.
He sets the perfect example for his team to never stop believing in yourself and to follow your dreams to growth and greater heights.
---
August 2020
Meet

Coco Musas

, Community Projects at the Kamoa-Kakula Project in the Democratic Republic of Congo.

Always learn and innovate – is Coco Musas' life motto. A carpenter by trade, Coco is involved in the community projects at Ivanhoe's Kamoa Copper project. Shortly after birth, Coco lost his hearing. He attended a skills transfer centre for disabled people and honed his career skills in both Kinshasa and Kolwezi.
His contribution to the development of the people from the local community is something that Coco is very proud of. Being part of the sustainability team that focuses on the development of people has given him self-confidence despite his disability. He has learnt to see his disability as an opportunity rather than an obstacle.
He believes that nothing is impossible – and if you share your strength and knowledge with those around you – everybody wins!
---
July 2020
Meet

Phillip Ramphisa

, Environmental Manager at the Platreef Project in Limpopo Province, South Africa.

Phillip joined Ivanplats' Platreef Project on 4 March 2020 as the Environmental Manager. He laughs as he explains that this was a significant date as he was "marching forth". Developing baseline studies for the environment, applying for and securing environmental licences and ensuring the implementation there-of may describe a day in the life of Phillip. Passion describes his way of life. He holds two masters degrees including an MBA from the University of the Witwatersrand. His personal motto is "Let the world and the natural environment be better off with you in it". Phillip and his team are actively involved in the host communities and are sharing their knowledge and expertise to ensure that we raise environmental awareness and make this world a better place.
---
June 2020
Meet

Junior Kasila

, Electrical Superintendent at the Kipushi Project in the Democratic Republic of Congo.

Junior Kisula joined KICO, a joint venture between Ivanhoe Mines (68%) and Gécamines (32%) that is upgrading the historic Kipushi Zinc-Copper Mine, in 2014 as an Electrical Superintendent. Junior is from Haut-Katanga Province and graduated as an Electrical Engineer from the Universite de Lubumbashi. In 2017, Junior was appointed as the engineer in charge of instrumentation. Junior manages the mechanical and electrical maintenance of underground operations and he carefully plans his days and tasks to ensure there are no delays to other departments. Safety is paramount to Junior and he strives to ensure that his department remains incident and accident free. Ivanhoe Mines has given Junior the opportunity to develop professionally as well as personally, and he has enjoyed being part of the KICO team.
---
May 2020
Meet

Alex Kawaya

, Accounting Superintendent at the Kamoa-Kakula Project in the Democratic Republic of Congo.

To see a world-class development like Kamoa Copper through the exploration, development and production phases is a dream that is about to come true for Alex Kawaya, Kamoa Copper's Accounting Superintendent. A graduate in Public and Industrial Economics from the Universite de Lubumbashi, Alex worked in the DRC Immigration Office before he moved to Anvil Mining Congo. The excitement of the mining industry sparked a flame and he joined the Kamoa-Kakula team in 2010 as an assistant accountant. He enjoys the busy work days, and deadlines and targets are what keeps him going. Alex believes that holding a team accountable is not an exercise in control, but rather an exercise in empowerment.
---
April 2020
Meet

Precious Madiba

, Human Resources Assistant at Ivanhoe's Platreef Project in Limpopo Province, South Africa.

Precious has a passion for helping people reach their full potential in the workplace. This is evident from her experience in a variety of educational settings. Precious joined the Platreef team six years ago and has been growing with the Platreef Project, gaining more knowledge about planning and training a mining workforce while the mine is still under development. Precious was born and raised in a local community. She firmly believes that success does not come from what a person does occasionally, but from what a person does consistently.
---
March 2020
Meet Nathalie Bono Kibaba (right), Socio-Economic Development Manager at our Kipushi Project in the Democratic Republic of Congo.

Nathalie Bono Kibaba is a member of the team at our Kipushi project in the Democratic Republic of Congo. She has solid technical background, having graduated with a Bachelor of Science degree, and has subsequently diversified her experience base into information technology, contract management, administration, and small business development. Nathalie is currently using her diverse skill in her role as the Socio-Economic Development Manager at our Kipushi mine. In this position, she is responsible for designing and implementing projects which contribute to socio-economic development in the project's host community.
Nathalie says of her position: "I have discovered a special kind of passion and commitment working with communities. It is challenging and humbling, frustrating and extremely rewarding at the same time."
She believes that the rewards of her job are often intangibles, saying: "Which other job will: Make you cry when a little girl open a running tap and have access to potable water for the first time? Give you the opportunity to see the face of a school girl in a rural area, which for the first time, has access to sanitation facilities at her school? Let you be with a son who shows his aged paraplegic father his bursary letter which states that his university costs are covered? Enable you to see an emerging supplier to the mine kiss his first purchase order document, ceremoniously bless it and nail it to his front door? It is only by working with the communities here in Kipushi that I came to appreciate the value of life."
Nathalie's advice to young women who want to pursue a career in the mining industry is to be prepared to adapt to the constraints of the industry, such as remote site work and shifts, and learn how to balance work with family life. "Let the quality of your work and your perseverance speak for you – and the rest of the workforce will acknowledge your value."
---
February 2020
Meet

Micheline Kyenge

, Mine Geologist at our Kamoa-Kakula Project in the Democratic Republic of Congo.

Micheline joined the Kamoa-Kakula Project in 2011 as a Logging Geologist in the exploration geology team. She then moved on to become a member of the Kakula mining team in 2017 as a Mine Geologist, reporting to the Chief Mine Geologist.
Micheline's professional development has grown exponentially during her time at Kamoa-Kakula, through exposure to different aspects of geology, on-the-job training and Kamoa-Kakula's skills transfer program. As a female technical expert in a male dominated industry in the Democratic Republic of Congo, she has found the culture and work environment at Kamoa-Kakula to be safe and comfortable for female workers and conducive to her own professional growth. She looks forward to growing her career and gaining more experience in her field as the Kamoa-Kakula project progresses.
---
January 2020
Meet

Benjamin Sekano

, General Manager, at our Platreef Project in Mokopane, Limpopo, South Africa.


Benjamin has been an important member of the Ivanplats family for the last three years. He has 22 years' experience as a mining engineer in various platinum-group metals mines in South Africa. Benjamin is passionate in his belief that every employee has the right to return home safely to their loved ones at the end of each shift. To this end, he conducts regular leadership sessions with his colleagues at Platreef to discuss encourage safety at the project site. He believes that Platreef will be South Africa's next great platinum-group metals mine, and Ivanplats is privileged to have him as a member of the pioneering team building this world-class project.
---