As a responsible Canadian mining company operating globally, Ivanhoe Mines is committed to respecting and observing all human rights, consistent with the principles of the Universal Declaration of Human Rights and the United Nations Global Compact.
As a fundamental operating principle embedded in our Statement of Values and Responsibilities, we strive to respect human rights wherever we do business and recognize the equality and dignity of the people with whom we interact every day. Respect for our people, local community members and local governments is part of our core values guiding us in all we do.
It is every employee's responsibility to maintain a working environment that reflects respect for human rights, and that is free from all discrimination and harassment. As such, this policy applies at every level of the organization to all employees, independent service providers, clients and all visitors while attending Ivanhoe Mines workplaces. In our business engagements, we aim to identify and work with partners who aspire to conduct their business in a similar manner. We have established and maintain appropriate procedures to evaluate and select suppliers, consultants and contractors based on our core values, human rights policy, and Supplier Code of Conduct, which is further grounded in international human rights guidelines and best practice.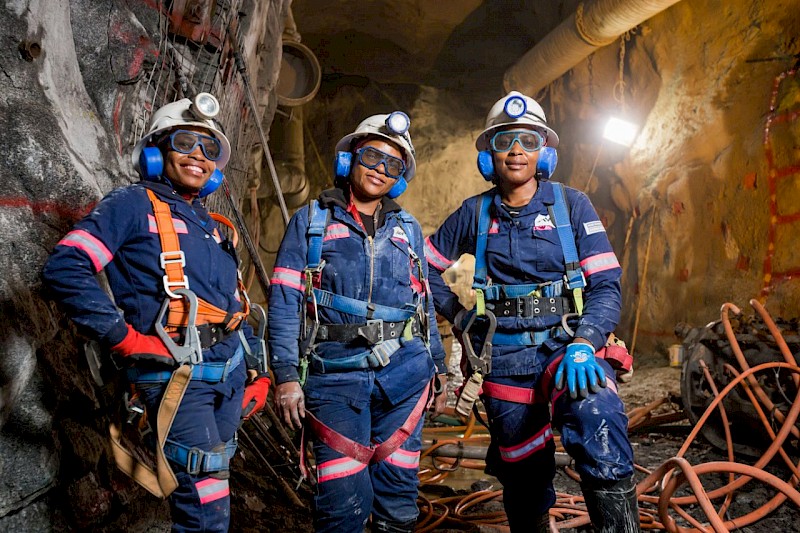 Platreef's underground mine development team includes women and men from surrounding communities, including (from left) Nkone Madubana, Katlego Nkwana and Caroline Dzivhani, who became fully certified underground miners in 2019. Approximately 40% of Platreef's shaft-sinking team is comprised of trained members from local communities who had no previous mining experience.
We value the rights of employees to participate in occupations which enable them to grow to their potential and reap beneficial value for themselves and their families, workplace, community and society. We actively encourage an inclusive work environment that reflects the diversity of the communities in which our workforce operates. We do not tolerate any form of workplace discrimination, harassment or physical assault, or any form of child, forced or compulsory labour. Such practices are contrary to our core values, including our value of treating others the way we want to be treated. We respect the rights of our employees and contractors to a safe and healthy work environment, fair conditions of employment, and to freedom of expression, association and collective bargaining.
We strive not to infringe, directly or through complicity in the acts of others, on the human rights of our employees, workers in our supply chain, members of the communities where we operate or others who are affected by our activities. We work with our suppliers to share this commitment. Wherever we operate, we verify and respect the legal and customary owners of land and engage with communities to build strong, healthy and mutually beneficial relationships. We have management mechanisms in place to safeguard the natural environment in which our communities reside. Through policies and training, we strive to ensure our security providers, consultants and other service providers understand and meet their responsibility to respect human rights.
We also committed to promoting human rights and fostering economic growth and poverty alleviation by assisting the communities in which we operate to meet and exceed their basic needs. We regularly review and update our policies, processes and management systems to keep in lockstep with evolving human rights best practices and stakeholder needs.
We conduct due diligence exercises as a means to proactively identify and address human rights risks to people in our business and value chain. We expect our employees, contractors and community members to bring human rights concerns to our attention through our site-level grievance mechanisms or the company's confidential Whistleblower hotline. Compliance with this policy is overseen by our Board of Directors and managed by our Corporate Social Responsibility team.